Veluxe Blinds
Velux windows are the perfect way to open up large rooms in your home – giving your living space a bright and airy feel. There's no denying that they bring extra daylight to your room but, when you want to watch a movie, take a nap or have a lie-in, we'll bet you don't want to be blinded by the sun.
The solution? Velux blinds.
Velux roof blinds – specifically made to cover Velux windows – are designed with functionality in mind. They allow you to control how much light enters the room, whenever you like, and can also save energy, keep your home at a comfortable temperature and give you unobstructed views of the outside world. And, because they are available in a vast range of designs, you're sure to find one that complements your interior décor.
For many years, Galaxy Blinds has provided Velux blinds for clients in the North West, and have a comprehensive collection available – ranging from plain fabrics to designer patterns, bold colours and blackouts for bedrooms. No longer limited to the Velux blind supplier fabrics, we are now in a position to offer almost any fabric choice from the Fabric Box Collection.
So, if you have a genuine Velux window or similar product, be sure to take a look at our Velux roof blinds today. We are confident that we have the blind for you.
Why should you opt for Velux blinds from Galaxy Blinds?
Versatility – the great thing about Velux blinds is that they fulfil various functions. Not only do they add texture and shade to your space, but they are also extremely practical and can be used to cool down a kitchen, conservatory, bedroom or converted loft space in the summer months.
Light control – say goodbye to worrying about the sun shining in your eyes, bouncing off the TV screen or making the room unbearably hot. These gorgeous blinds are sure to give you complete control over the light coming in from above – making your space more comfortable.
Enhance security – if your windows are overlooked by higher properties or other rooms, Velux blinds can offer privacy which, in turn, enhances security. These coverings are perfect for keeping unwanted light and attention out.
Made to measure – Velux blinds are specifically created to fit your Velux window. In the right-hand corner of the frame of your roof window, there will be a plate outlining the type, size, variant and production code. As with all our window blinds, Velux blinds are made to measure at our facility in St Helens and will be created based on either the actual code for the window or the window size itself – guaranteeing a perfect fit.
Want to know more about Velux blinds?
No problem! Our team is always on hand to help and will be more than happy to answer your questions. Feel free to drop us an email at galaxyblindsltd@aol.co.uk, and we'll get back to you as soon as we can.
If you would like to receive a free quote for Velux blinds or schedule a convenient time for us to come and measure up, call Galaxy Blinds in confidence on 01744 453 300.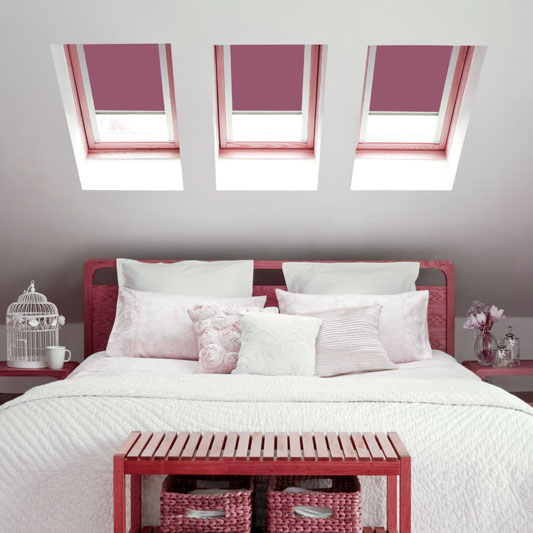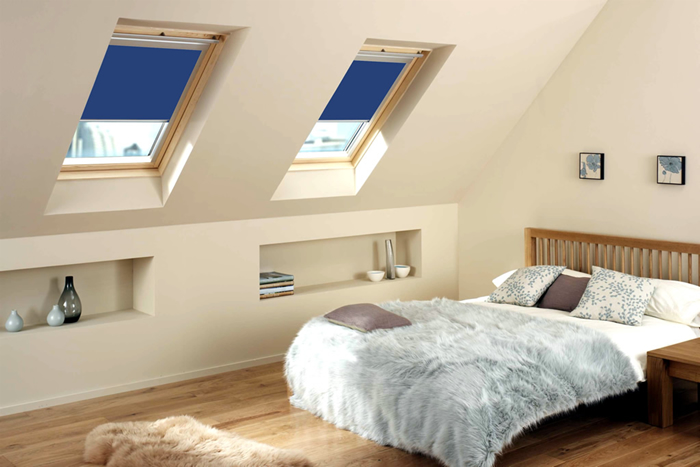 Frequently Asked Questions
Are Velux blinds easy to clean?
Many of the fabrics used in the manufacture of Velux blinds are specially treated to repel dust and dirt so that you can enjoy a lifetime of wear-resistant performance.
If you've noticed that yours are looking a little grubby recently, don't stress!
They're extremely easy to clean, and there are a few things you can do to help them keep them in tip-top condition:
Dusting – regularly dusting will help maintain the 'like-new' appearance that you know and love.
Vacuuming – for particularly stubborn spots of dust or dirt, gently vacuuming with a brush attachment should do the trick.
Spot-cleaning – for a bit of a deeper clean, spot-cleaning your Velux blinds with a soft cloth or sponge moistened with lukewarm water will work a treat. Make sure to use dabbing motions to avoid creasing or damaging the fabric, as rubbing can cause damage.
For more tips on cleaning your Velux blinds and to keep them looking as good as new for as long as possible, give our experts a call on 01744 453 300.
How long does it take to fit Velux blinds?
Not long at all!
We pride ourselves on rapid installation times, and the team here at Galaxy Blinds have vast experience in fitting Velux blinds and are fully equipped for the job.
With this said, it's important to note that we refuse to sacrifice safety and the quality of our services, so you can always have confidence when working with us.
We also pay meticulous attention to detail, and always make sure to clean up any debris and rubbish – you'll never have to worry about our fitters leaving a mess.
How much do Velux blinds cost?
It's difficult to put an exact figure, as Velux blinds, like the rest of our products here at Galaxy Blinds, are made to measure – meaning that the price you pay will be determined by the size of your windows as well as the fabric you opt for.
For a clear idea of how much Velux binds will cost you, our best advice would be to get in touch with us.
We'll arrange a convenient time for one of our experts to come and visit you at your home, where we'll accurately measure up, provide you with a few samples, and discuss your requirements in further detail before offering a free, no-obligation quote.
Why choose Galaxy Blinds?
Here at Galaxy Blinds, we've been supplying and fitting high-quality Velux blinds all over the North West for over 20 years!
We're immensely proud of the reputation we've built for ourselves and as one of the leading window blind manufacturers in Merseyside, you can consider us your go-to company whenever you need top-notch, reliable services.
We receive recommendation after recommendation, which is how 95% of our business is done here at Galaxy Blinds.
There are no middlemen, time loss, or hassle when using our services – just gorgeous, high-quality blinds fitted by our experts. What's not to love?
To find out more about our range of Velux blinds or to arrange a fitting, get in touch with our team today.
Either give us a call on 01744 453 300 to speak to us directly or send your enquiry by email to galaxyblindsltd@aol.co.uk and we'll get back to you.